Few things in life are as enjoyable as a beautifully decorated Christmas tree. It's the center of attention in any room, and everyone who sees it is filled with holiday cheer. But for many people, the task of decorating a Christmas tree can be daunting. There are so many ornaments and tinsel strands to choose from, not to mention the Christmas tree ribbons. How do you know which one to use? And how do you make sure it looks good?
Fear not! With these simple tips, you can have a beautiful Christmas tree that will be the envy of your friends and family. You'll learn how to choose the right ribbon and decorate your Christmas tree with it in a way that looks professional and festive. Let's get started!
What Supplies Are Needed to Decorate a Christmas Tree With Ribbon
Before you start decorating, you'll need a few supplies. You'll need ribbon in various sizes, colors and patterns to create the desired look. In addition to the ribbon, you will also need scissors and a tape measure for measuring out how much ribbon you need for each section of your tree. Finally, you may want to use glue or pins to secure the ribbon in place.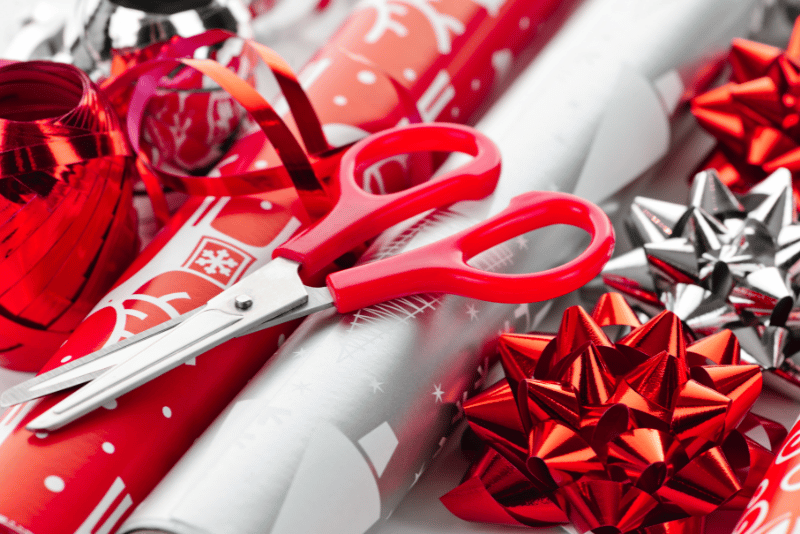 Once you have all the supplies, it's time to prepare your tree for decorating.
1. Choose the Right Christmas Tree Ribbons.
The key to decorating a Christmas tree with ribbon is choosing the right one. Start by considering your theme or the overall look you want for your tree. Do you prefer a more traditional style, or would something bright and funky be better? Once you've settled on a color scheme and type of ribbon, it's time to choose the length you need. Generally, you'll want to get several spools of the same ribbon in different lengths to make sure you have enough for your tree.
2. Cut the Christmas Tree Ribbon to the Correct Length.
Once you've selected the ribbon, it's time to start cutting it. You'll want to measure out the lengths of ribbon you need for each part of your tree. Cut the ribbon a few inches longer than needed so that you can wrap it around easily and make sure you have enough for later sections. If necessary, add extra pieces together to get the desired length.
3. Tie a Knot at One End of the Christmas Tree Ribbon.
After you've cut the ribbon to your desired lengths, tie a knot at one end. This will help keep the ribbon secure on your tree and provide a starting point for wrapping.
4. Loop the Christmas Tree Ribbon Around the Tree Branch and Tie a Knot on the Other End.
Once you've tied the knot at one end, begin wrapping the ribbon around the branch of your Christmas tree. Loop it over and under, keeping the ribbon taut to ensure that everything is secure. Tie a knot on the other end when you're done looping.
5. Trim Any Excess Ribbon off of the Knots.
Once you've finished looping the ribbon around your tree branch, trim any excess off of the knots. This will help keep everything neat and tidy, and it also prevents your Christmas tree from getting too crowded with ribbon strands.
6. Repeat These Steps for Every Branch on the Tree.
Repeat these steps for every branch on the tree until it's finished. If you need to, use extra pieces of ribbon or add lengths together to reach around larger branches. With a bit of patience and some practice, you'll have a festive Christmas tree that looks professionally decorated with ribbon!
7. Hang Ornaments and Lights as Desired.
Finally, hang ornaments and sparkling Christmas tree lights as desired to complete your festive Christmas tree. With the right ribbon and a bit of creativity, you'll have a beautiful centerpiece for your home that will last throughout the holiday season.
Read here on how to make Christmas lights twinkle.
8. Place a Star or Angel at the Top of the Tree.
When you're all finished, place a star or angel at the top of the tree for the finishing touch. You're now ready to enjoy your lovely Christmas tree, beautifully decorated with ribbon!
9. Add a Festive Bow on the Top for an Extra Touch.
As a final touch, why not add a festive bow on the top of your tree? A nice big bow with some sparkly ornaments in it will really tie the look together and make your Christmas tree even more stunning.
10. Enjoy Your Beautiful and Unique Ribbon-Decorated Christmas Tree!
You now have a beautiful and unique ribbon-decorated Christmas tree! With these easy steps, you can create the perfect festive centerpiece for your home.
Why Ribbon Is a Great Choice for Christmas Decorations?
Ribbon is one of the best choices for decorating your Christmas tree, as it provides an easy way to add a touch of color and texture to your decorations. Whether you're looking for something simple or more elaborate, ribbon has it all. It's available in a wide range of colors, styles, sizes, and patterns that can easily be combined to create the perfect look.
Furthermore, ribbon is relatively inexpensive compared to other materials used for decorating Christmas trees. Finally, it's simple to work with and can be used to create intricate patterns that will make your Christmas tree the talk of the town.
Do You Put Ribbon on Tree First or Ornaments?
Always put ribbon first on the Christmas tree. Start decorating with a light and ribbon. Ornaments must be left for the last. When you use ribbon after hanging ornaments, you could break the ornaments while preparing a tree.
How to Use Short Ribbon Strips for Christmas Tree Decoration?
This Christmas Ribbon Decor is somewhat unique from the rest, using long ribbon and shorter strips instead. As long as the strand is short it makes the creative part easier – you can mix ribbons to achieve different effects. You can use various widths to create an attractive Christmas tree look. Decorating trees is a good, family-friendly activity. It makes your Christmas tree feel like your own.
Decorating a Christmas tree with ribbon is an easy way to bring some flair and festivity to your holiday decorating. With the right ribbon and some simple steps, you can have a professionally decorated Christmas tree that will be admired by all. So what are you waiting for? Get out there and start decorating!
Happy Holidays!